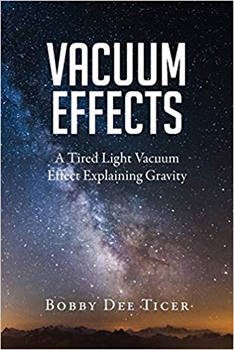 VACUUM EFFECTS
Explaining simple means an understanding of a step by step process of complex outcomes. Being consistent means it is internally consistent and consistent with established theory that is itself internally consistent. Being complete means a causal explanation of gravity of how it occurs consistent with the laws of momentum and energy, and with both quantum wave mechanics and relativity theory, including Einstein's momentum-energy stress tensor matrix of general relativity.
Now Available in Paperback from

Download PDF for $4.99
Vacuum Effects of Gravitational and Electromagnetic Attraction
Book review by Michael Radon - Read here
"Gravity and electromagnetism are not here explained as directly interrelating. A decrease of gravitational force does not result in an observable increase in electromagnetic force."
Read full review